by Mare Ball at
ADVENTURES IN THE BALLPARK
(Even if you've never seen
Parenthood
, you'll have an opinion about this post.)
When I first starting watching
Parenthood
a few years ago, Max had just been diagnosed with Asbergers, a form of autism. This was an interesting and informative story line. Our daughter teaches teens with Asbergers, and the show brought attention to this complex issue.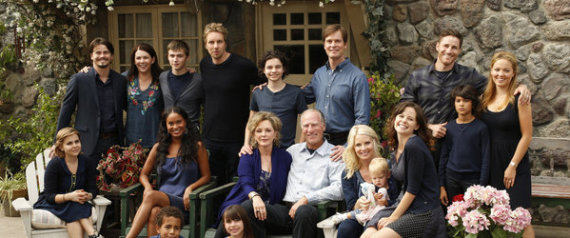 http://www.huffingtonpost.com
Other story lines included losing a business (Adam's), teen angst, the effect of divorce on Sarah's kids, a stay-at-home Dad (Joel), weary working moms, an out of wedlock grandson (Jamal), the emotional disconnection that sometimes occurs in a marriage of 30+ years (Zeke and Camille), and adoption. I thought from the beginning, these characters were a bit shallow, but the story lines were significant. They were true to life challenges.
Then...the show became more about sexual escapades. Crosby slept with his nephew's tutor, ruining his chance for love and reconciliation with his son's mama. Sarah began an affair with her son's teacher. Zeke admitted to being unfaithful to Camile. Adam became tempted by a young coworker. Haddie, a teen, slept with her boyfriend for the first time. Sarah broke up with the teacher and began a relationship with her coworker, which, of course, led to a sleepover. Drew, just out of high school, got his girlfriend pregnant (she had an abortion.) Amber fell for a young soldier, and the relationship quickly became sexual.
Enough, already
, I thought.
The story line that kept me watching was Kristina's breast cancer. It was real and touching and important.
Then, Joel returned to work, and his wife Julia became enmeshed in a male friend's marital break-up. She eventually kissed the friend, causing Joel to leave her. Later, Julia sought out the friend again; the viewer was left to wonder how far things went. From the beginning, Joel and Julia's marriage was the only stable one on the show. The writers must have decided a solid marriage was no longer worth writing about.
That's when I decided, with some disappointment, I needed to quit watching. My final viewing was the season finale, where Haddie brought home from college her lesbian girlfriend. I almost laughed. The writers apparently wanted sexual freedom to be represented across all avenues.
I thought of the scripture verse that tells us to focus on things that are "good and pure and holy." I just began to feel sleazy after soaking up an hour of
Parenthood
. I don't want to feel that way anymore.
I'm making no judgments about those love
Parenthood
, or the Kardashians, for that matter. God gave us free will to make choices about what we allow into our minds and hearts. I'm making a choice for myself.
So, goodbye Braverman family. We shared some good times, but I need to move on.
p.s. Do you watch
Parenthood
? What are your thoughts?